Essential to anyone's holiday in Cornwall, especially whilst staying in a luxury cottage in North Cornwall, (like Rooky's Nook), and wondering what to do, or where to go, should be a visit to
Tintagel
. Tintagel will offer you a truly memorable, and magical day out: from ancient castles and caves (associated with Camelot, King Arthur and the Knights of the Round Table) to the Old Post Office, pottery and pasties.
(English Heritage)
Tintagel Castle
is steeped in legend and mystery, with a history stretching back to the Romans. Set on the rugged North Cornwall coast, these 13th Century remains include steep stone steps, stout walls, rugged windswept cliff edges, and dramatic views out to sea. And did you know 'Din Tagell' (Cornish for Tintagel)
means 'Fortress of the Narrow Entrance' - named after this medieval fortification built on the peninsula of Tintagel Island, only joined to the mainland by a narrow neck of land?
Merlin's Cave
, located nearby, is where legend claims the magician Merlin, of the court of the mighty King Uther Pendragon, found the baby who was later to become King Arthur. At low tide you can walk through the cave - where smugglers used to hide!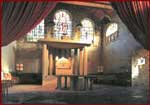 King Arthur's Great Hall
- is an historic building on Fore Street, built in 1930's by philantropist (custard millionaire) Frederick Thomas Glasscock
using 52 types of stone plus 72 stained windows, with an impressive large hall, granite round table and thrones - all to tell the story of King Arthur, and show the Coats of Arms and weapons of the Knights.
(National Trust)
Old Post Office
is an
original 14th Century Yeoman's farmhouse, with a famously wavy slate roofline, supported by hugh buttress at rear of the building, plus a beautiful small cottage garden. It's life as a Post Office only began in the 19th Century, with the introduction of Penny Postage, and improved postal services in remote country places like Tintagel!
And to complete your day, why not finish off with a freshly baked Cornish Pasty or Cream Tea from
Pengenna Pasties
- simply delicious!
So if you're planning your Cornwall Holiday,
and fancy finding out more about its Cornish Myths and Legends,
come and stay at Rooky's Nook - luxury holiday cottage for 2,
near Tintagel on the North Cornwall coast