1. Go 'beach-combing' at Tregardock Beach - looking for a heart-shaped pebble to give your loved one as a special momento of your romantic holiday together - here in Cornwall.
2. Play scrabble infront of a roaring fire, (trying to include as many romantic words as possible!) whilst snuggled up in your very own cosy cottage for two.
3. Share a freshly baked Cornish Pasty from Pendenis Pasties in magical Tintagel, having just wondered round the ruins of Tintagel Castle, and hidden in Merlin's Cave (like pirates or smugglers)!
4. Listen to the Fisherman's Friends sing sea shanties on the Platt at Port Isaac - having wondered through this pictureque village and found the aptly named 'Squeezy Belly Alley' (Temple Bar) - which is only 18" wide at it's narrowist point!
5. Star-gaze on a clear night (great as there are no street lights in Trewalder making dark nights with clear skies bright with stars), - and maybe even make a 'wish on a shooting star'. Then lie in bed listening to the owls 'hoot'.
6. Take the pedestrian water ferry across the River Camel between Rock and Padstow, and enjoy a delicious fish and chips 'takeaway' from Rick Steins.
7. Share a traditional Cream Tea at the Boscastle Farm Shop, overlooking the North Coast, close to the SouthWest CoastPath.
8. Cycle from Wadebridge to Padstow on the Camel Trail - along the original railway line, taking in beautiful views across the Camel Estuary.
9. Take your loved one breakfast in bed - made from local eggs, sausages, jams and marmalade from Newhall Green, next door to Trewalder.
10. See how many 'kissing gates' you can go through whilst walking the South West Coastal Footpaths
(

Gates

only allowing one person to pass at a time, so when the lady and gentleman are out walking in the country, the gentleman invites the lady to pass through the gate first, but then she has in effect to close the gate on him in order to pass herself, thereby affording a good opportunity to turn round and demand a kiss before letting her companion pass through!)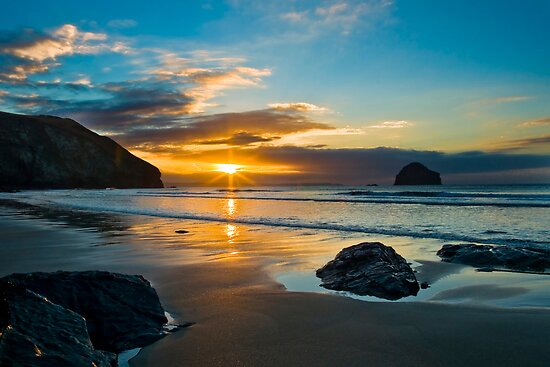 11. Watch the sunset across the water at Trebarwith Strand - the closest beach to Rooky's Nook - truly romantic!
So Why Not
Come and stay at 'Romantic Rooky's Nook'
on a romantic cottage holiday for two,
to rekindle your passion and affection not only for your loved one,